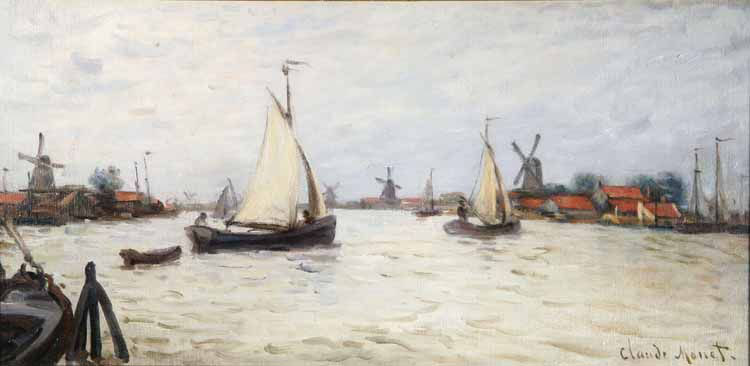 Bateaux en Hollande pres de Zaandam, 1871
Between the years 1871 and 1886, artist Claude Monet (1840-1926) visited the Netherlands on three occasions.
During the first visit (1871) Monet, with his wife, Camille and their son, Jean, spent several months in Zaandam in North Holland. Of that time, he later recalled "…houses in every colour, mills by the hundred and delightful boats…".
A number of canvases survive from this period in Holland, including a very similar view Mills in the Westziderveld near Zaandam (1871) in the Van Gogh Museum, Amsterdam.
Stylistically, Bateaux en Hollande… predates Monet's more recognisable works which famously began with Impression: Sunrise (1872) shown at the first Impressionist Exhibition in Paris in 1874.
Bateaux en Hollande was presented to the Glynn Vivian Art Gallery in 1974 by Her Majesty's Treasury in lieu of settlement duties.