Our friendly Gallery Assistants are ready to offer you a warm welcome and to help you make the most of your visit. They have a wealth of knowledge about artworks on display, the building and our programme of additional activities.
You can find our Gallery Assistants at the Reception Desk and throughout the galleries.
Whatever you need, the Gallery team is ready to assist you and we look forward to welcoming you to the Glynn Vivian.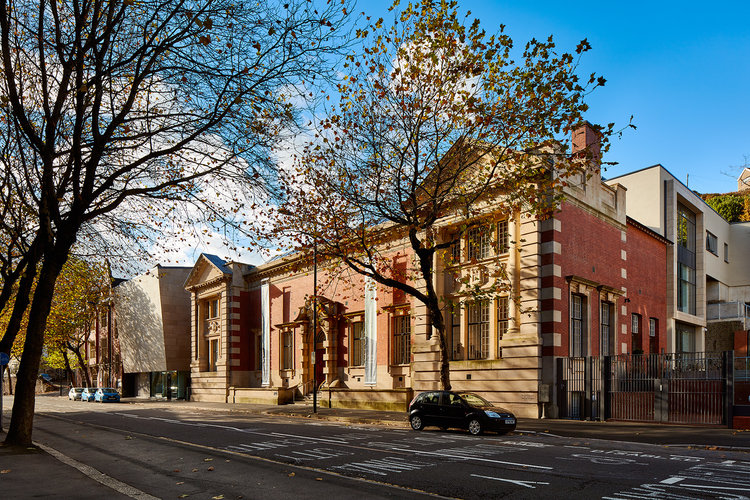 Accessible Parking
Free parking is available directly outside the Gallery for a limited number of vehicles.
There are three parking spaces (for one hour) located outside the main entrance to the Gallery and three spaces for Blue Badge holders located in front of the Gallery garden, (maximum stay, two hours).

There are also two large drop off bays for private hire coaches outside the Gallery's 1911 entrance.
There are two NCP's in the area. Visit city centre car parks to find out more. Free parking is available at High Street Car Park on Sundays.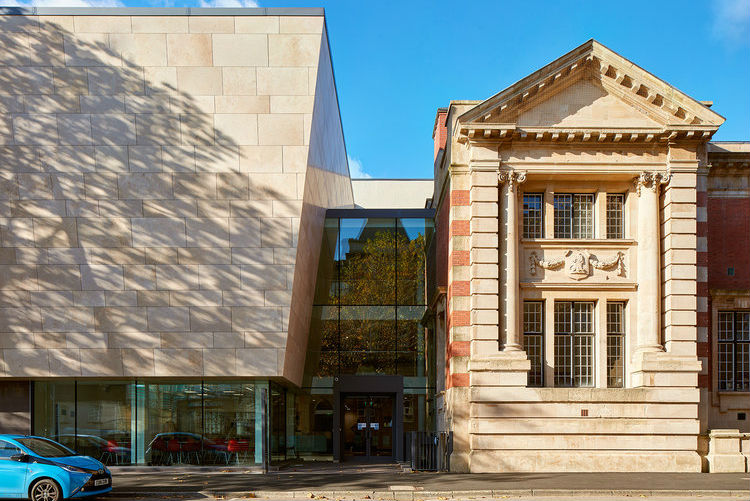 Main Entrance
The Gallery is located on Alexandra Road, opposite the University of Wales Trinity St. David's Alex Building.
The Gallery has a ground level entrance, which has no steps.
The Main Entrance and leads into the welcome area consisting of the Reception Desk, shop, café and seating area.
There is currently no access into the building through the original 1911 entrance. This entrance is only open in an emergency.
---
Assistance Animals
Guide dogs, hearing and registered assistance dogs are welcome.
Guiding Service
If you require a guide to assist you around the building, please book in advance. Unfortunately, we cannot guarantee assistance to visitors who do not book in advance. Call 01792 516900
Wheelchairs and Mobility Scooters
The Gallery has clear pathways of 1.5 metres wide suitable for wheelchairs and mobility scooters.
The Gallery does not have wheelchairs available to use.
You can hire powered scooters and wheelchairs from Swansea Mobility Hire located at Swansea Bus Station. Call 01792 461785
---
Reception Desk
The Reception desk is a short distance from the main entrance and has two heights, 110 cm and a lower height of 76 cm to allow for easy access for wheelchair users.
Lift Access
Our main entrance is at street level and all galleries are wheelchair accessible. The lifts have a visual floor indicator and an audible announcer.
The external call buttons are at a low level and the lighting level in the lifts is bright.
---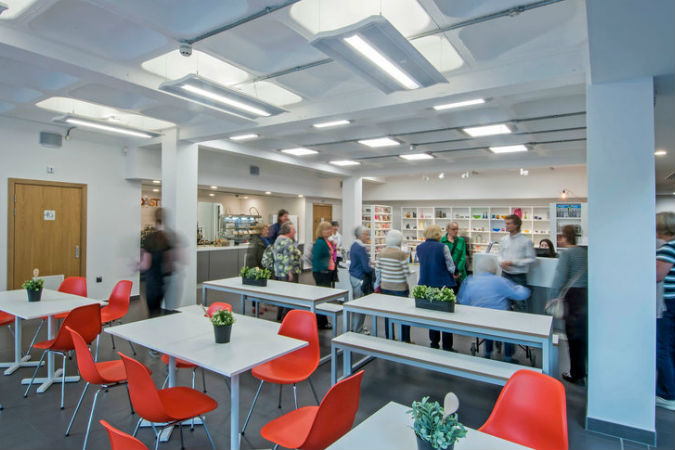 Cafe
The café area is located to the left of the Reception desk and has level access.
There is room for a wheelchair user to manoeuvre and furniture is not fixed.
Our cafe is currently closed as we await new proprietors, however you are welcome to use this space for your own refreshments and as a social or resting place.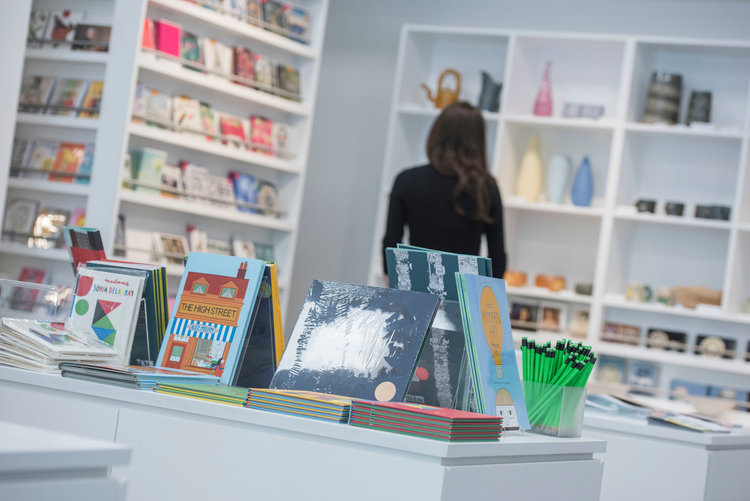 Shop
The shop is located to the left of the Reception desk and has level access. There is room for a wheelchair user to manoeuvre.
Some items may be out of reach for wheelchair users, however our friendly Gallery Assistants are always on hand to help.
---
Induction Loops
You will need to switch your hearing aid to the 'T' position. Induction loops are available in the following areas:
Information desks
Lecture theatre and seminar rooms
Retail points
Sound enhancement equipment
Speakers giving talks in the galleries wear portable induction loops. There are four portable receivers, which are available from the Reception Desk.
Large Print
Large print information about exhibitions, events and facilities can be requested by calling 01792 516900 or emailing our team.
Large print exhibition labels and interpretation texts are available in the Gallery. Please ask a Gallery Assistant or enquire at Reception.
If you require an alternative format, please email glynn.vivian.gallery@swansea.gov.uk
---
Lockers
There are lockers available on our lower ground floor via nine steps. If you are unable to use the stairs our Gallery Assistants are able to help, please ask at the Reception Desk.
Lockers are available in three sizes 40 x 84 cm, 30 x 40 cm, and 30 x 56 cm.
One locker costs a refundable £1.
The lockers are emptied at the end of each day and all items are removed. There are additional coat racks available during Exhibition Previews and special events.
Toilets and Changing Places
Accessible toilets, Changing Places facility and baby changing facilities are all available on the ground floor. These can be found in the main entrance area, to the left of the Reception desk. The Changing Places facility can be accessed with a radar key. Please ask a member of staff for further information.
There are also public toilets on the lower ground floor. These are accessed via nine steps down from the main entrance area.
There are three accessible toilets throughout the building, two on the ground floor in the main entrance area, and another on Level 2 between the lift and Room 9. All accessible toilets have a functional emergency alarm, coat hooks and wall mounted rails.
---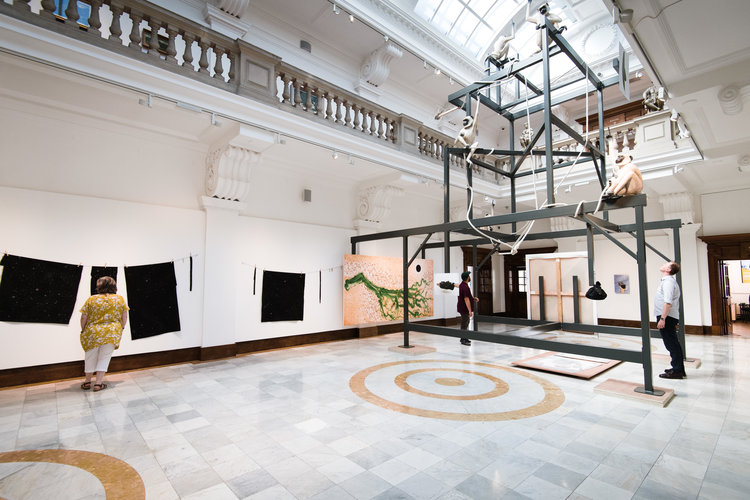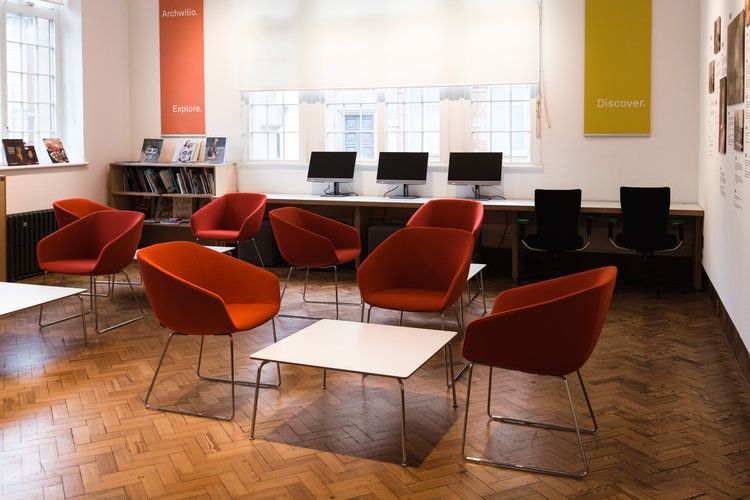 Lighting
All areas of the Gallery are well lit, with bright natural daylight in every room except our Learning Studio (Room 2) and Exhibition Gallery (Room 3). Occasionally the screen in the Lecture Theatre (Room 1) will be used to create a dark environment suitable for film screenings and presentations.
The stairs are clearly marked with are handrails on both sides.
Seating
There are a number of portable chairs available for use in the galleries, please ask a member of staff for assistance.
There are benches in the main entrance and in some of our galleries. The Atrium and Garden Room have a range of seating including sofas.
Our terraced garden has a selection of wooden benches, alongside unique wrought iron benches, handmade by Mark Dyvig, and are part of our collection.
---
Event Spaces
Most of our activities take place in the Atrium, Garden Room, Lecture Theatre (Room 1), Learning Studio (Room 2) or Library.
All of these rooms are located on Level 0 and are easily accessible by wheelchair.
Some activities will involve other areas of the Gallery, all of which are accessible via the lift.
Fire Exits
There are various exit routes out of the building for use in the event of an emergency. Exits are clearly marked with illuminated green 'running man' signs as well as audible recorded messages advising visitors to exit the building.
Staff will assist in ensuring all visitors leave the building promptly and safely in the event of an emergency.
Evacuation chairs are in place to aid disabled visitors.
In an emergency, the lift will automatically descend to Level -1 (entrance level) and the doors open to allow anyone inside to leave the building via the main entrance. The lift will remain on this floor and remain open until the fire alarm is reset.
In the event of the activation coming from level -1 the lift will stop at level 0 allowing visitors to leave via the exits out of the garden room – staff are positioned in this area at all times to assist in the event of an evacuation.
---
A Visual Guide To Visiting The Glynn Vivian