Opening minds and expanding horizons is at the core of what we do, as we strive to empower pupils, making art fun, exciting and inspirational.
Glynn Vivian Art Gallery is the leader in Wales for providing consistent excellence in its learning, participation and engagement programmes and has been recognised for its high quality and award winning approach to learning both nationally and internationally.
---
Online workshops and tours
In light of the continuing restrictions and safety measures surrounding public health, the gallery is at present not able to offer whole class workshops and tours in person.
However, we are able to offer tours and workshops virtually via Microsoft Teams.
Please get in touch to discuss your schools needs and how we can bring the gallery to life – from your classroom!
Call our Learning team 01792 516900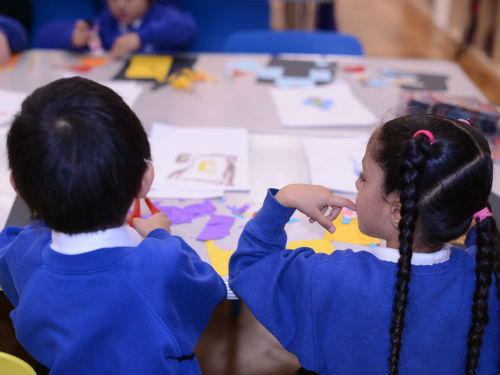 Workshops are 1 hour long
Choose between
Explore the Collection
Find out about the artworks and objects in the Gallery's Permanent Collection and create your own artwork in response.
Tour of an Exhibition
Led by the Gallery's Learning team, go behind the scenes and find out about the artists and artworks that the Gallery has on display in our temporary Exhibitions programme.
Hands-on crafts
Based around the Gallery's Collection or Exhibitions displays, create your own artwork in this extended, craft-focused, creative session. Bespoke session designed around your school's current topic
Resources are available for teachers with pre-session activities relating to our current Exhibitions and our Permanent Collection.
All sessions can be tailored to suit your school's topics and themes, but may require a longer lead in time.