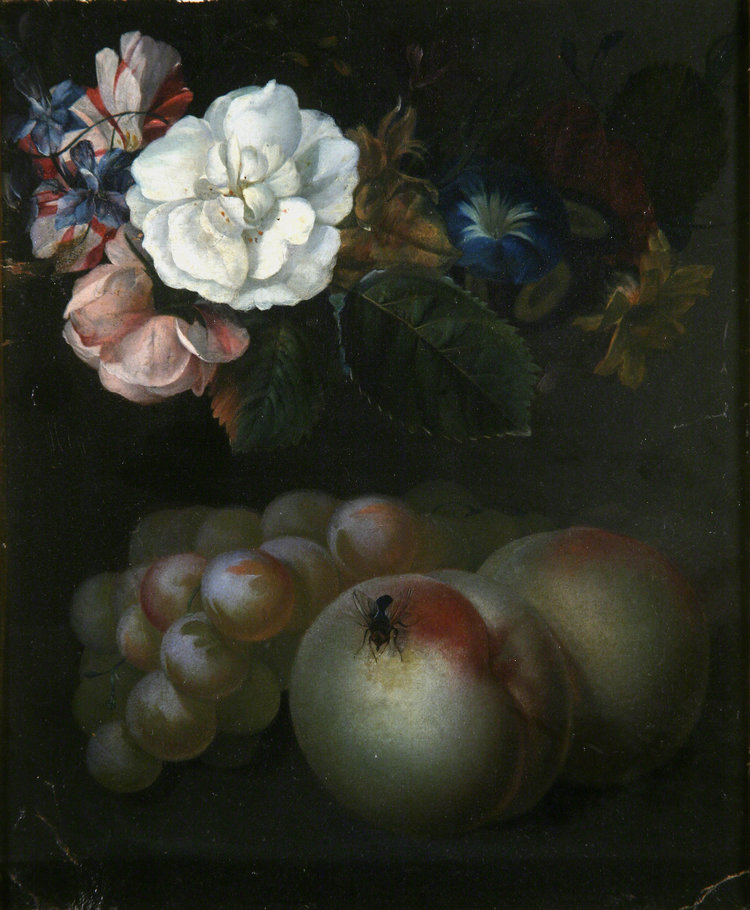 Very little is known about Agatha van der Mÿn [Mijn]. She was one of a large family of Dutch painters from Amsterdam and the sister of Herman van der Mijn (1684-1741), a painter of portraits, still life and mythological nudes. In c.1722 she moved to London with her brother and his family. She is said to have painted flower still life in Amsterdam before her eighteenth birthday and some game still life paintings are attributed to her.
Below a delicate white rose and blue columbines, a realistic bunch of green grapes and two peaches lie on a stone ledge. A large, black fly lands on the central peach: this witty illusion is the classic demonstration of the skill of the still life painter, but at the same time emphasises the transience of the flowers and fruit, which will soon decay and die. Painted on inexpensive card rather than the usual wood or canvas, this tiny study might be preparation for a larger painting or a studio sample for students to copy. It once belonged to a German collector and possibly Richard Glynn Vivian bought it there.
Art historian Kirstine Brander Dunthorne.