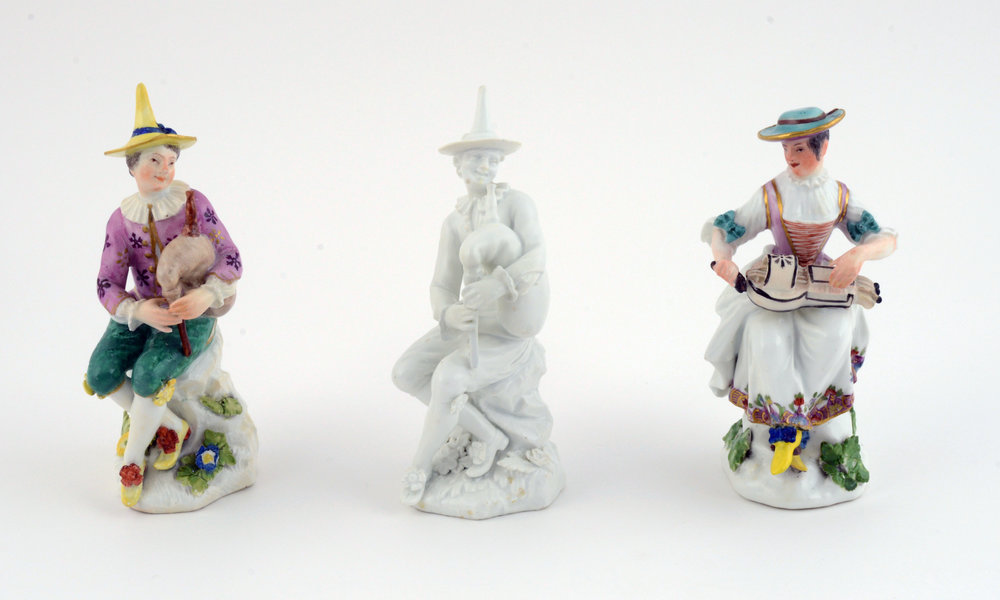 Theatre is a theme which appears to run through Glynn's life and collections. Among his ceramics are an interesting group of figures representing characters from the 'Commedia dell' Arte'. Originating in Italy the 'arte' applies to their individual artistic skills as they interacted with their audience in ribald and irreverent improvisation around a basic script, often with topical or satirical comment. The actors performed on steps of churches or simple trestle stages with little or no set decoration.
The Commedia dell'arte originated in Italy in the 15th century and spread throughout Europe until it was eventually absorbed into more traditional theatre by the end of the 18th century, as the Theatre Italien and by the 19th century as Punch and Judy.
Amongst the figures represented within this group, are a Meissen figure of Harlequin as a bagpiper in decorated and undecorated states and Columbine playing a hurdy-gurdy , three figures, Pantalone, Corviello and Mezzetin from the Kloster Veilsdorf factory, modelled by Wenzel Neu between 1764-5. They were inspired by the engravings of Probost, which were published in Augsburg in 1729.
Most notable is a previously unrecorded and rare Commedia dell'arte dwarf, probably representing Pantalone from Du Paquier's Vienna Factory.
Conservator Peter J. David ACR.