Swansea Council's Glynn Vivian Art Gallery has become part of a major new Imperial War Museums (IWM) arts initiative aiming to highlight the enduring messages for our times of the legacies of conflict since World War I.
The IWM 14-18 NOW Legacy Fund is a national programme of 22 artist commissions inspired by the heritage of conflict and created in partnership with Imperial War Museums (IWM) and 14-18 NOW, the official UK arts programme for the First World War centenary.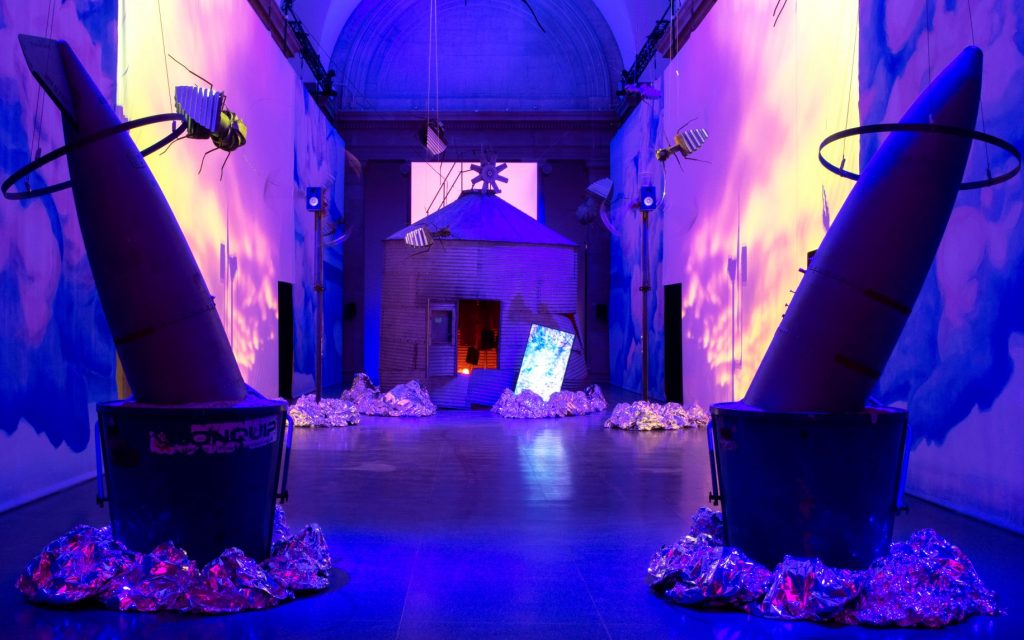 Building on over 100 years of contemporary art commissioning by IWM, this new initiative continues the vision and reach of 14-18 NOW, the official UK arts programme for the First World War centenary, and has been made possible thanks to the success of Peter Jackson's critically acclaimed film They Shall Not Grow Old, co-commissioned by IWM and 14-18 NOW. A share of the film's royalties – £2.5 million – will see investment in artists and arts experiences as IWM partners with 20 cultural organisations and 22 artists from across the UK. The fully funded commissions will each be inspired by the heritage of conflict.
Five major partners have been appointed by IWM as co-commissioners, each to receive £250,000: The Hunterian in Glasgow; Glynn Vivian Art Gallery in Swansea; BALTIC Centre for Contemporary Art in Gateshead; Ulster University in Derry-Londonderry; and Leicester Museums. Working with five world-leading artists, these joint commissions will be displayed between 2023 and 2024 and explore themes ranging from care work in conflict to the current refugee crisis.
Turner Prize 2022 nominee Heather Phillipson has been chosen for a new commission at Glynn Vivian Art Gallery. Phillipson will propose a vision from the skies inspired by the US government's 2021 report into UAPs (Unidentified Aerial Phenomena).
Her work, often involving collisions of wildly different imagery, materials, and media, will consider various sites of conflict, from the microcosmic to the global.
Diane Lees, Director-General of IWM, says: "IWM is delighted to be working in close partnership with such a breadth of UK organisations on this ambitious programme of art commissioning. After a challenging couple of years for the arts sector, we hope that the unprecedented opportunities enabled by the IWM 14-18 NOW Legacy Fund will kick-start cultural dialogue as we recover from the wide-reaching impacts of COVID-19".
Karen MacKinnon, Glynn Vivian Curator, says: "We are thrilled to be working with Heather Phillipson. Her practice is often a collision of radically different materials and ways of working. Surreal, poetic constellations, engaging with urgent and radical ideas of our time. This project will create new narratives and conversations in ways that only artists can, and provide amazing opportunities for audiences to engage and participate in a unique and immersive artwork.
"The IWM 14-18 NOW Legacy Fund thoroughly supports and allows creativity and ambition to flourish, creating long lasting local and national networks and legacies and reminding us all of the importance and value of art and culture in these turbulent times."
Artist, Heather Phillipson says: "In a way, all of my work engages with conflict, from the mute, interior and microcosmic, to the raging, global and macrocosmic. It is a gift to be invited to think through these ideas with the Imperial War Museum, and to do so in Wales, land of myth and mystery."
The IWM 14-18 NOW Legacy Fund commissions will go on public display across the UK between 2022 and 2024. Heather Phillipson's new commission will be on display at the Glynn Vivian Art Gallery, Swansea in summer 2024. For further information about the IWM 14-18 NOW Legacy Fund, please visit the IWM website.