Welcome Mosaic was formed in consultation with Swansea City of Sanctuary and Swansea Voluntary Service.
The Gallery offers weekly practical creative sessions in mosaic led by artists Armaghan and Nese Aydin, Melissa Rodrigues, Ezra Kilicdogan, with offsite workshops delivered by Mary Hayman, Rhiannon Morgan and Elissa Evans.
The group have been running introductory classes to mosaic, developing participant's skills so that they are able create and make their own designs and contribute to the gallery's collaborative bench project.
Free entry, bus tickets are offered as subsidy.
For more information contact Daniel.McCabe@swansea.gov.uk or phone 01792 516900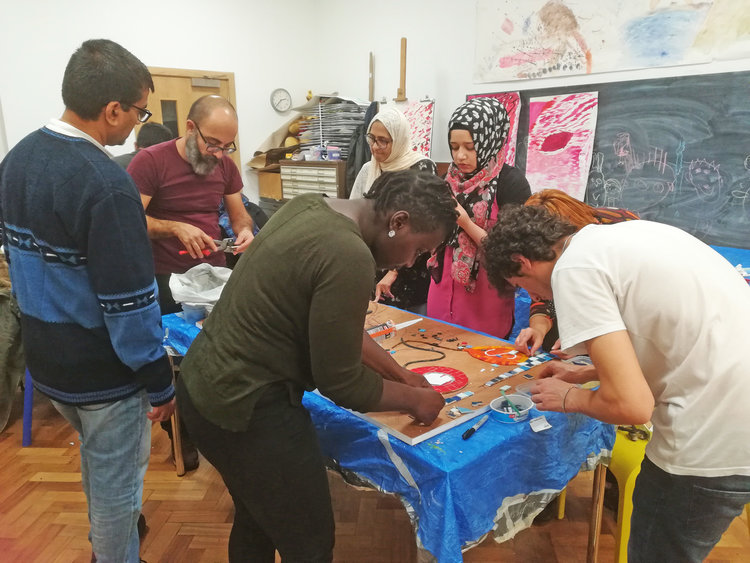 Forthcoming events
Threads: A Community Craft Project
– Tuesday 5 December 2023, 1:00 pm - 4:00 pm
Art Break - Community workshops
– Thursday 7 December 2023, 10:30 am - 3:30 pm
Welcome Group: Mosaic Workshop
– Friday 8 December 2023, 1:00 pm - 3:00 pm
Art Break - Community workshops
– Monday 11 December 2023, 12:30 pm - 2:30 pm
Art Break - Community workshops
– Tuesday 12 December 2023, 10:30 am - 12:30 pm
Threads: A Community Craft Project
– Tuesday 12 December 2023, 1:00 pm - 4:00 pm
Art Break - Community workshops
– Thursday 14 December 2023, 10:30 am - 3:30 pm
Welcome Group: Mosaic Workshop
– Friday 15 December 2023, 1:00 pm - 3:00 pm
Glynn Vivian Winter Festival
– Saturday 16 December 2023, 10:30 am - 3:30 pm
Art Break - Community workshops
– Monday 18 December 2023, 12:30 pm - 2:30 pm