Saturday 11 June 2022 - Sunday 19 June 2022
11:00 am - 4:30 pm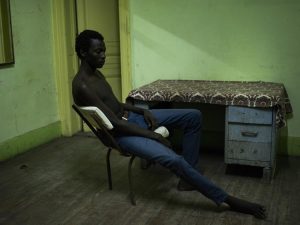 Creative workshops for young people, age 16 – 24
As part of a UK wide National Skills Sharing Partnership Programme, with the National Portrait Gallery, London, we are working with two amazing photographers to explore who young people would identify as the role models and icons of tomorrow in Welsh culture, and to commission new work for an exhibition featuring portraits of Welsh icons.
On the Saturday 11 and Sunday 12 June, join photographer Mohamed Hassan for a two-day workshop; learn from Mohammed's years of experience and insight into capturing a sitter's portrait, introducing key concepts and ideas on the first day, and a chance to experiment with taking your own portrait on the second day.
On Sunday 19 June, join photographer Megan Winstone for an online session, as they present a quick fire slideshow of potential sitter with quick facts about them. Who is inspirational to you?  With a live googling shared screen session, this informal and involved session will help us shape an upcoming exhibition at the Gallery in the Autumn, of the icons and roles models of today in welsh culture.
All materials are provided.
Travel reimbursement, lunch and refreshments are all included.
Limited number of free spaces. Booking essential
Call 01792 516900 or book online
---
Book now Saturday 11.06.22  and Sunday 12.06.22
Mohamed Hassan is a Wales-based portrait and fine art photographer, originally from Alexandria, Egypt.
Since graduating with a 1st class honours degree in Photography from Carmarthen School of Art, Mo has exhibited internationally in Egypt, London, Morocco and Wales and now spends his time working in both Pembrokeshire and Egypt. He has also been shortlisted for several prestigious international and Welsh national awards and competitions
www.mohamedhassanphotography.com
---
Book now Sunday 19.06.22, 2pm – 3pm
Register on zoom
Photographer Megan Winstone playfully draws on punk culture and feminist theory to take down societal expectations and negative body imagery.
Her work has shone a spotlight on her Welsh heritage, leading to collaborations with Dr. Martens, Stella McCartney, The Face, Vogue and many more. Recognised as an It Girl by W magazine and a recipient of the British Fashion Council's New Wave Creatives 2020. Megan can also be found performing in front of the camera in music videos for the likes of Sam Smith and Adam Lambert.
---
The National Skills Sharing Partnership Programme is co-designed with partners to create a network of museums and galleries with the aim of exploring issues such as identity, representation and the contemporary relevance of portraits today.
National Skills Sharing Partnership is part of the National Portrait Gallery's Inspiring People Activity Plan which is funded by The National Lottery Heritage Fund and Art Fund.
---
Categories