Friday 20 October 2023 - Sunday 21 January 2024
10:00 am - 4:30 pm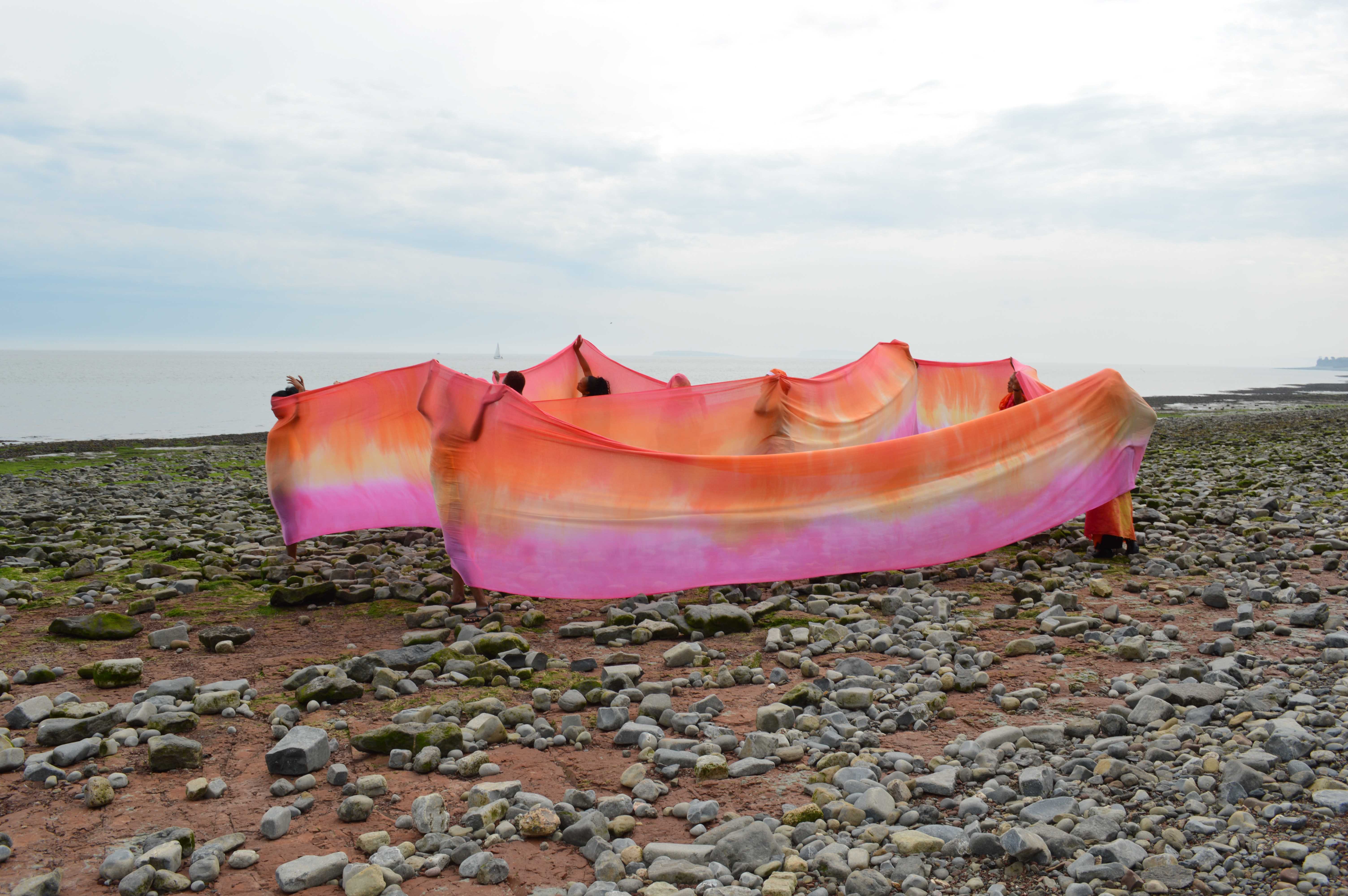 Ncheta explores themes of remembrance, language and the personal and cultural importance of textiles. The work is one of the outcomes of a two-year project in collaboration with Artes Mundi, Aurora Trinity Collective and the Trinity Centre, co-produced by Ogechi Dimeke and Helen Clifford.
Aurora Trinity Collective hold weekly creative sessions in Cardiff that are a safe held space for women, including trans women, non-binary people and intersex people. Alongside this, they have a collaborative practice through which they create their own work. Many artists in the collective have lived experience as refugees and those seeking asylum in Wales, resulting in their work reflecting a rich and active engagement in cultural creativity. The work of the Collective often considers personal narratives, traditions and knowledges.
Ncheta incorporates textiles, photography and multi-channel audio, its multi-sensory nature reflecting the way the group work with one another; whilst not everyone shares the same language they create spaces for one another, finding rhythms of making together.
On display is a 50 metre textile work with multi-channel audio, developed through conversations with Nasia Sarwar Skuse and Lauren Clifford-Keane, featuring the voices of members of the collective. Alongside this are a series of photographs taken on Penarth beach, documenting a performative action improvised with Amak Mahmoodian and choreographed in collaboration with June Campbell Davies.
During their time on the beach, the Collective used the fabric work to define space and explore their bodies' connections to the landscape, the large-scale textile hand dyed in pinks, yellows and oranges, and used in this context as a marker or wordless banner.
This project has been made possible through support by National Lottery/Arts Council Wales 'Connect and Flourish'.
---
Artes Mundi is the key flagship international visual arts organisation for Wales based in Cardiff, UK.
Established in 2002, Artes Mundi is committed to working with artists whose work engages with social reality and lived experience. The Artes Mundi exhibition and prize takes place biennially, while alongside these is a sustained public programme, co-creative community partnerships, projects and commissions. Previous winners are Apichatpong Weerasethakul (2019), John Akomfrah (2017), Theaster Gates (2015), Teresa Margolles (2013), Yael Bartana (2010), N S Harsha (2008), Eija-Liisa Ahtila (2006), and Xu Bing (2004). Artes Mundi receives core funding from the Arts Council of Wales and Cardiff Council alongside other support including Welsh Government, British Council, various Foundations, Trusts, embassies, cultural agencies and individuals.
---
Aurora Trinity collective aims to promote opportunities for communities to get involved with and share their creative knowledge and skills.
Creating a safe and welcoming space for refugees and people seeking asylum and encouraging access to, and active engagement in cultural creativity. Aurora is committed to projects that reflect personal narratives, traditions, and knowledge of refugees and people seeking asylum, to reveal the diverse and creative skills of the local community and users of the Trinity Centre.
The collective meets weekly and is a place to make new friends and get involved with creative activities.
About Us – Aurora Trinity Collective
---
Categories