Saturday 15 October 2016 - Tuesday 15 October 2019
10:00 am - 5:00 pm

Richard Glynn Vivian was the original founder of our gallery in Swansea. Born at Singleton Abbey, Glynn was the fourth son of the wealthy Vivian family, owners of the most successful copper smelting plant in the world in the 19th century.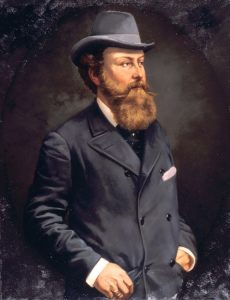 Glynn left his entire art collection for 'the enjoyment of the people of Swansea' in 1908, and the gallery opened in 1911, a year after his death.
Glynn Vivian collected throughout his life, travelling extensively around the world by steamboat and by train, acquiring objects and art works from every country that he visited. Journeys between Art & Life presents his collection and celebrates his life for the first time in over 100 years.
Following in his father's footsteps before him, Glynn's collection is outstanding because he was making acquisitions long before it became fashionable to do so, with ceramics from China and European potteries, fans and textiles, miniature portraits, silver and paintings, with most work dating from the 18th century and earlier, as Glynn disliked 'all things modern'.
Glynn was educated at Eton College and studied Humanities at Cambridge University. When his father died in 1855, he inherited a quarter share in the business, but not having been trained in metallurgy, he did not join his brothers in Swansea, but decided to travel the world collecting art.
The project is generously supported by a grant from the Heritage Lottery Fund.
---
Glynn Vivian Art Gallery
Alexandra Road, Swansea, SA1 5DZ
map
iCal
Categories