Tuesday 13 September 2022
6:00 pm - 7:00 pm

Join members of the On Your Face Collective in conversation with LGBTQ+ artists and entrepreneurs of Wales, whose research, passion and direct action plays on representation and reclaiming spaces.
Free. Booking essential.
This event will take place online on zoom.
---
Panel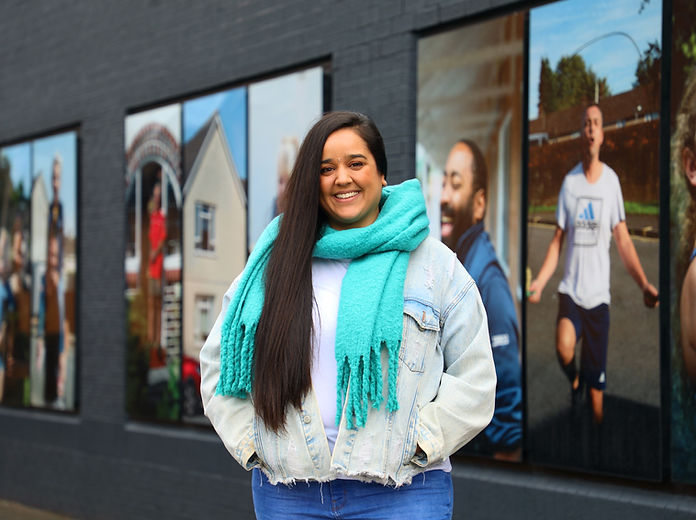 Sita Thomas (she/her)
Dr Sita Thomas is a Welsh-Indian theatre and filmmaker currently based in Cardiff. She is Artistic Director of Fio theatre company, which focuses on creating work with Welsh Global Majority creatives and participants. She is Creative Associate at Wales Millennium Centre, Associate Artist at National Youth Theatre, and Headlong Origins Director. Sita was previously Co-Artistic Director (maternity cover) of Common Wealth theatre.
---
Coco (they/them)
Coco is a creative activist multi artist, trying to dismantle the 'writer/poet' 'crazy' or 'lgbtq+' stereotype attached to what that is, being a 'different' in society, and changing what 'normal' is. Always using their personal experiences as a creative, mental health activist, black, non-binary lesbian – combating the stigmas of the world.
---
Bethan Marlow
Bethan is known in Wales as a writer that creates fictional worlds that contain real voices. From verbatim theatre to site-specific productions with and within communities on the fringes of our society, from feel good queer films to taboo tackling tv series, her work is always an authentic representation of the Wales we live in today. I focus mostly on the voices of females, the queer community and the Welsh working class.
---
Africa Olle (they/them)
Founder and co-director of On Your Face.
Africa Olle is a non-binary multidisciplinary artist whose practice revolves around their own lived experiences, representation and activism.
Olle's passion lies in taking the space, creating opportunities for people to have their voices heard, challenge and de-construct hierarchies of power.
A big topic within their research is the effects of lack of representation or miss-representation of the lives, narratives and people who are most often overlooked and stereotyped in media, literature and the art world.
---
Cerian Wilshere (they/them)
Cerian is a queer, working class artist, facilitator and performance maker from West Wales. Their work focuses on queer ecology, radical expression and connecting with LGBTQ+ communities in rural areas. They are the co-creator of Queer Clown Cabaret, which is a collective that platforms emerging queer performers, they are one of the organisers of Twmpath; a rural arts collective and they are also a Youth Engagement Facilitator for Amgueddfa Cymru- National Museum Wales.
---
Yan White (they/he)
Yan White is the Founder and Director of The Queer Empoirum, an LGBTQ+ Social Enterprise that is a collective of over 15 LGBTQ+ local businesses. Since opening as a pop-up, it now also operates as a cafe and events space and has become a permanent fixture for the Cardiff Community. Yan has also led the first Queer Fringe Festival in Cardiff earlier this year which placed events is over 20 venues around the city with artists and events including authors, comedy and drag amongst others.
---
Categories