Saturday 8 January 2022 - Sunday 13 March 2022
10:30 am - 4:00 pm

Hayward Gallery Touring exhibition from Southbank Centre, London, developed in partnership with Drawing Room.
Curated by Simon Grant, Lars Bang Larsen and Marco Pasi
Room 3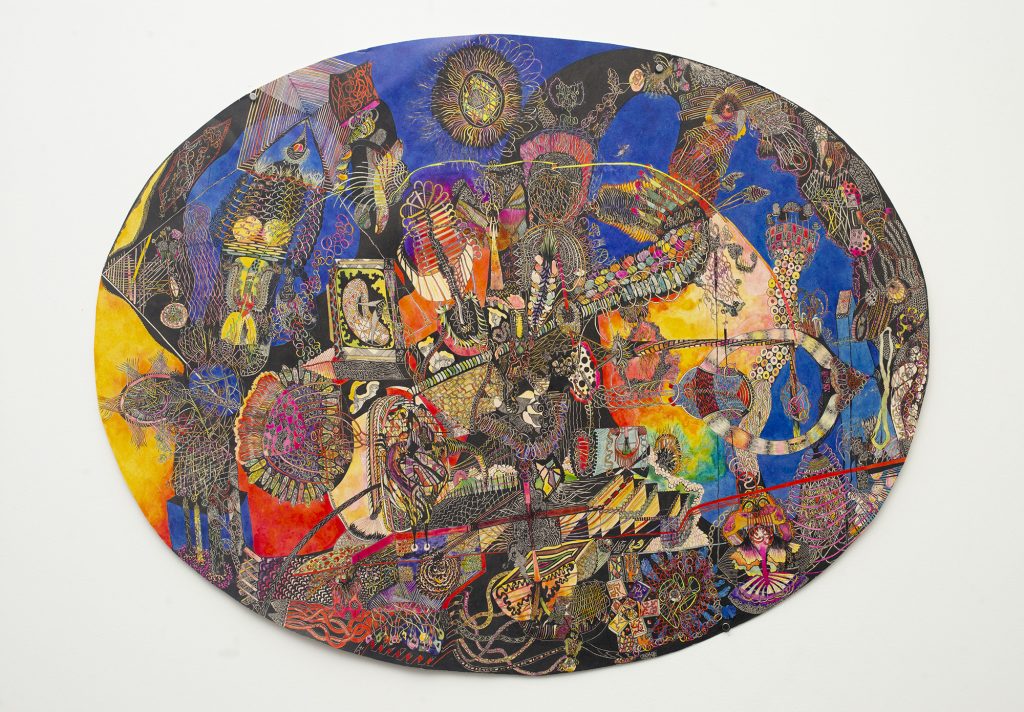 Glynn Vivian Art Gallery is delighted to announce the opening of, Not without My Ghosts, an international exhibition ranging from the late 19th century to the present day, looking at how artists' have engaged with séances, channelling, automatic writing and other paranormal investigations. The Hayward Gallery Touring exhibition, in partnership with Drawing Room, features around 50 exhibits spanning from paintings, works on paper, installation, video and animation.
The works on display reflect the creation of art as a process of opening up to receive and channel forces that expand the limits of human experience. For some artists, their works function as evidence of another realm of existence, while others navigate hidden and visible worlds as a response to the complexity and strangeness of life. The exhibition includes a large proportion of work by female artists, illustrating how it has primarily been women who have engaged with and interpreted spirit art and how their artistic endeavours have strong roots in the history of feminism.
The research-based exhibition will shed light on how the tropes of the ghostly and the spectral, from having been widely condemned as aesthetically illegitimate and politically dangerous, have since become important for the articulation of history, cultural memory, and contemporary life. In their critiques of individual authorship and artistic autonomy, intertwined with human experience, the exhibition will argue how spirit and mediumistic art anticipated many of the ongoing preoccupations of contemporary artists working today and is overdue a cultural reassessment.
Not Without My Ghosts takes as its starting point the visionary work of William Blake, alongside the largely forgotten Victorian spirit artists Georgiana Houghton and Barbara Honywood. Their work, based on experiences and communication with the world of the spirits, was strikingly at odds with prevailing traditions of artistic expression.
The exhibition also chronicles the Surrealists' experiments with automatism, going on to look at how 20th century artists like Austin Osman Spare, Ithell Colquhoun and Cameron combined techniques drawn from automatism with an interest in occultist rituals. Moving into the present day, works by Emma Talbot, Suzanne Treister, Lea Porsager and Louise Despont demonstrate how contemporary artists continue to use the power of the unseen and uncanny to explore the ambiguities of the world around them.
Not Without My Ghosts includes work by Noviadi Angkasapura, William Blake, Cameron, Ann Churchill, Ithell Colquhoun, Louise Despont, Casimiro Domingo, Madame Fondrillon, Chiara Fumai, Vidya Gastaldon, Madge Gill, Susan Hiller, Barbara Honywood, Georgiana Houghton, Augustin Lesage, Pia Lindman, Ann Lislegaard, Jock Macdonald, André Masson, Grace Pailthorpe, František Jaroslav Pecka, Olivia Plender, Sigmar Polke, Lea Porsager, Austin Osman Spare, Emma Talbot, Yves Tanguy, and Suzanne Treister with The Museum of Blackhole Spacetime Collective.
Glynn Vivian has also programmed two exhibitions by two Wales based artists whose work also responds to the themes in Not Without My Ghosts.  Fern Thomas' exhibition Spirit Mirror  will be drawing on her research into local suffragist, politician, philanthropist and spiritualist Winifred Coombe Tennant (1874 – 1956), whose home in Neath was originally located not far from where Thomas grew up. The artist brings together her own work and works from our permanent collection to consider recurring themes such as mythology and folklore in her practice. We are also showing the work of Zoe Preece, whose exhibition In Reverence uses expertly crafted objects such as kitchen utensils and other objects made in porcelain and wood. In her work, she explores themes of domesticity, memory and absence through these ghostly objects.
---
About the Curators:
Simon Grant is a writer and art historian and has contributed numerous catalogue essays on modern and contemporary artists.
Lars Bang Larsen is an art historian, independent curator and writer based in Copenhagen. He has curated projects at the Stedelijk Museum, Amsterdam; Raven Row, London, and at the Bienal de São Paulo.
Marco Pasi is Associate Professor in History of Hermetic Philosophy and related currents at the University of Amsterdam. His research focuses on the complex web of relations between modern Western esotericism, religion, politics and art.
The above curators collaborated on Georgiana Houghton, Spirit Drawings exhibition at The Courtauld Gallery in 2016.
---
About Hayward Gallery Touring
Hayward Gallery Touring is the UK's largest and longest-standing not-for-profit organisation producing exhibitions of modern and contemporary art that tour to galleries, museums and other publicly funded venues throughout Britain. Funded by Arts Council England and based at the Southbank Centre, London, Hayward Gallery Touring collaborates with independent curators, artists, writers and galleries to create ambitious exhibitions that are beyond the scope of a single institution. Ranging in scale from the British Art Show – the largest exhibition of contemporary art produced in the UK – to smaller monographic shows, our imaginative exhibitions are seen by up to half a million people in over 40 cities and towns each year.
Drawing Room
Drawing Room is a not-for-profit gallery, library, shop and online resource that is dedicated to opening up the world of contemporary drawing to everyone. It is internationally renowned for stimulating debate around the nature and purpose of drawing today. Through free exhibitions, artists' talks, practical workshops and a unique library, it nurtures the production and promotes the understanding of drawing. Drawing Room is an Arts Council England National Portfolio Organisation and collaborates with institutions to expand research, produce publications and tour its exhibitions.
The Southbank Centre
The Southbank Centre is the UK's largest arts centre and one of the UK's top five visitor attractions  in the midst of London's most vibrant cultural quarter on the South Bank of the Thames. We exist to present great cultural experiences that bring people together and we achieve this by providing the space for artists to create and present their best work and by creating a place where as many people as possible can come together to experience bold, unusual and eye-opening work. We want to take people out of the everyday, every day.
The site has an extraordinary creative and architectural history stretching back to the 1951 Festival of Britain. The Southbank Centre is made up of the Royal Festival Hall, Queen Elizabeth Hall, Purcell Room and the Hayward Gallery as well as being home to the National Poetry Library and the Arts Council Collection. It is also home to four Resident Orchestras (London Philharmonic Orchestra, Philharmonia Orchestra, London Sinfonietta and Orchestra of the Age of Enlightenment) and four Associate Orchestras (Aurora Orchestra, BBC Concert Orchestra, Chineke! Orchestra and National Youth Orchestra of Great Britain).
---
Virtually visit the gallery and enjoy our digital tours of the Exhibition
---
Categories