Saturday 15 October 2016 - Sunday 20 November 2016
10:00 am - 5:00 pm

Yingmei Duan, Marcel Duchamp, Cerith Wyn Evans, William Kentridge
Oscar Muñoz, Jose Alejandro Restrepo, Mark Wallinger
Out of Darkness brings together a selection of international artists whose works explore themes of journeys; both imagined and spiritual, light, darkness, and collecting.
Encompassing film, installation and sculpture, this first exhibition features the work of artists who have contributed to the Gallery's illustrious 100 year history of exhibitions at
Glynn Vivian.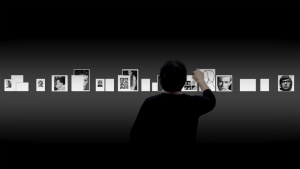 The exhibition traverses discussions on the nature of museums, post colonialism, war, loss and protest, and seeks to offer a collective understanding of the history of the gallery and the times in which we live.
The title of the exhibition refers to Richard Glynn Vivian's book entitled Ex tenebris lux! – Out of Darkness, light!  A book of poetry written by Glynn in aid of the global miner's mission he founded.
---
Glynn Vivian Art Gallery
Alexandra Road, Swansea, SA1 5DZ
map
iCal
Categories