Saturday 12 December 2020 - Sunday 23 May 2021
11:00 am - 4:00 pm

In partnership with Creativity Fellowships, Swansea University's Cultural Institute
---
---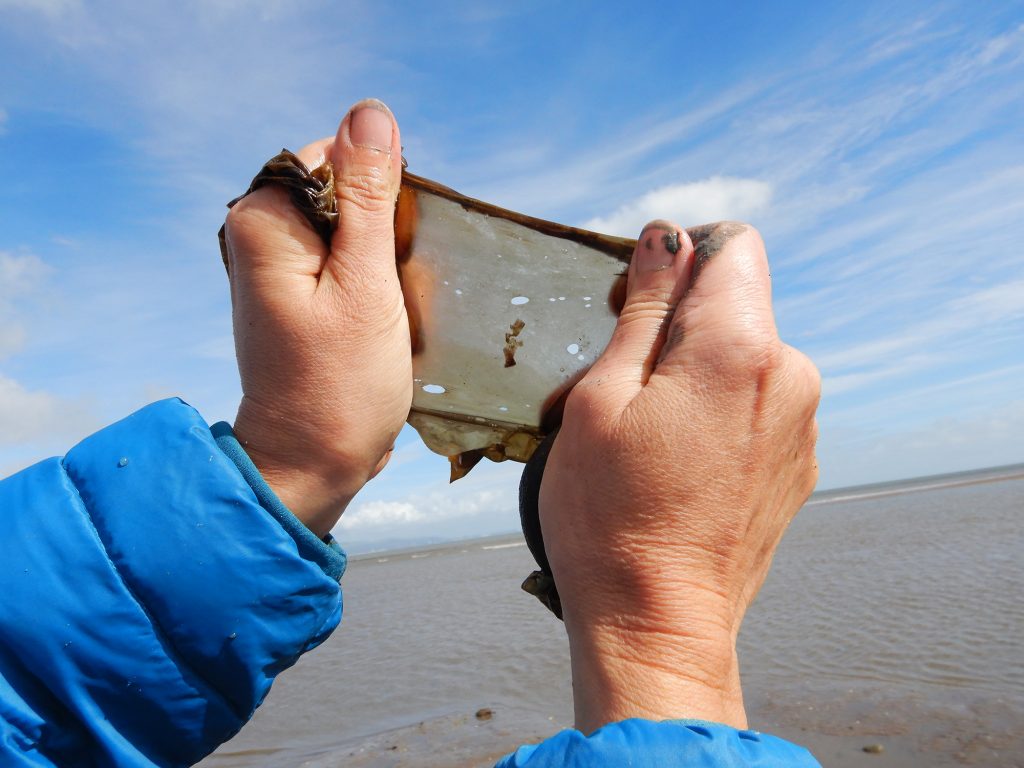 In 2019, Swansea University Cultural Institute launched the inaugural Creativity Fellowships, designed to give artists of any discipline the opportunity to create new work inspired by a piece of academic research. Six research projects were showcased online and over 400 artists, writers and performers applied for the Fellowships. One of them was Peter Matthews, an artist whose extraordinary work and methodology immediately seemed to speak to the interests and concerns of marine biologist, Dr. Ruth Callaway's study of coastal environments. Here were two people, an artist and a scientist, both of whom had spent years immersed in observing, experiencing and thinking about coastal landscapes.
Callaway introduced Matthews to the massive tidal range in Swansea Bay, which exposes large parts of the seafloor for a few hours each day, and her passion and detailed research with the reef forming worms that live there and what we can learn from them. This discussion and collaboration has been the starting point for the new work.
Callway says of the collaboration, "Working with Peter Matthews during his fellowship forced me to take a step back and look at my work from a different direction. The question of purpose, scale and also societal relevance came much more into focus."
Matthew's normal way of working involves immersion in the sea, with paper attached to an artist-made wooden drawing board – his materials include waterproof pens, but also the material of the sea itself. This performative, meditative act involves many hours (or even days) spent working in solitude in the sea, moving with the sea, drawing and painting.
The new works in the exhibition present a marked and tangible new development and direction in Matthews's work. The global pandemic, that has been present in all our lives this year, has, of course, changed and altered the course of this fellowship. As Matthews says, "My sensibilities to scale and distance, time and space have been deeply affected during the pandemic and throughout the fellowship, as well as my physical connection to objects and things, particularly how we make sense of the world by touch."
Working in and around Swansea Bay, and on the Atlantic coast of Cornwall, these new works span sculpture, works on paper, to film and painting. Sculptural pieces have been buried under Swansea Bay ready to be dug up and displayed in the gallery's Atrium. Work has also been made directly from clay in Swansea Bay. This sits alongside notes and exchanges between Callaway and Matthews.
Exhibition has been supported by the Arts Council of Wales, Pollock Krasner Foundation.
---
Peter Matthews
Peter Matthews is an English artist who works along the Atlantic and Pacific coasts. He works in solitude throughout the year and does not work from a studio. His immersion and lived and journeyed experience out-there in nature has been central to his approach and process of making his work since 2007 following a near death experience in the Pacific Ocean of México. His works straddle the performative, and his multidisciplinary works collectively draw insights, reflections, visceral encounters and poetic interrelationships between time and space, place and poetry, metaphysics and mystery, direct observations, chance and what it is to be human today in this ever changing literal and cultural landscape.
His art is regularly shown internationally and has appeared in exhibitions at the Drawing Center, New York; the North Carolina Museum of Contemporary Art; the Royal Museums Greenwich, London, Mendes Wood DM, Sao Paulo; the Walker Art Gallery, Liverpool amongst others. Matthews was awarded a grant from the Pollock-Krasner Foundation, New York in 2020.
Dr. Ruth Callaway
Ruth Callaway is a marine ecologist at Swansea University who contributes to new ideas on fundamental processes in the marine environment as well as novel ways of applying scientific knowledge. Early in her career, and for no particular reason, she developed an obsession with reef-forming tube-worms that engineer their environment and create biodiverse oases, and she wrote her PhD thesis on the topic. She then turned her attention to more practical and applied subjects and travelled for over 200 days on large research vessels to assess the impact of commercial fishing on the biodiversity of the North Sea. She explored reasons for unexplained cockle mortalities in a protected estuary and unravelled faunal patterns of the seafloor community in Swansea Bay to assist a marine renewable energy company in their planning. She is teaching marine biology students and supervises PhD students who research non-native species in Welsh ports, artificial islands as habitat creation, and of course reef-building tube-worms.
In recent years Ruth developed an interest in interdisciplinary projects and worked with linguists, lawyers, and geographers. The collaboration with the artist Peter Matthews altered her view on science in society and will change her future practice.
---
Categories