Monday 29 July 2019 - Sunday 1 March 2020
10:00 am - 5:00 pm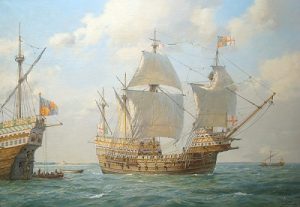 Glynn Vivian is delighted to be working with The Mary Rose Trust and Swansea University, to bring a selection of unique objects from The Mary Rose to Wales for the very first time.
Dr Nick Owen and the team at Swansea University College of Engineering have been working with The Mary Rose Trust for over 10 years, using innovative scientific techniques to uncover the truth about the people on board the sunken Tudor warship.
Experts have discovered that The Mary Rose was a more international ship than once imagined, and have found evidence that some members of the crew were European, and even possibly two members of North African origin.
Visitors will get the chance to see several recovered items on display at the Gallery, including items of clothing, Tudor weapons, and a special replica of one of the skulls of the crew, created in Swansea using photogrammetry models (3D technology).
Also included in the exhibition is a Portrait of a 16th century Lady from the Gallery's Collection, which has recently been restored by the Gallery's painting conservator.
The Mary Rose sank in 1545 in the Solent, during a naval battle with the French, with the loss of hundreds of sailors' lives. The wreckage was raised from the seabed in 1982.
The exhibition, The Mary Rose: People and Purpose continues at the Gallery from 20 July to the 1 March 2020.
In partnership with The Mary Rose Trust and Swansea University. Supported by Oriel Science, Swansea University.
---
Glynn Vivian Art Gallery
Alexandra Road, Swansea, SA1 5DZ
map
iCal
Categories