Wednesday 26 May 2021 - Sunday 31 October 2021
10:30 am - 4:00 pm

Glynn Vivian Art Gallery is delighted to announce the Wakelin Award recipient for 2020. The annual award is given to a Welsh artist, whose work is purchased for the Glynn Vivian Art Gallery's Permanent Collection.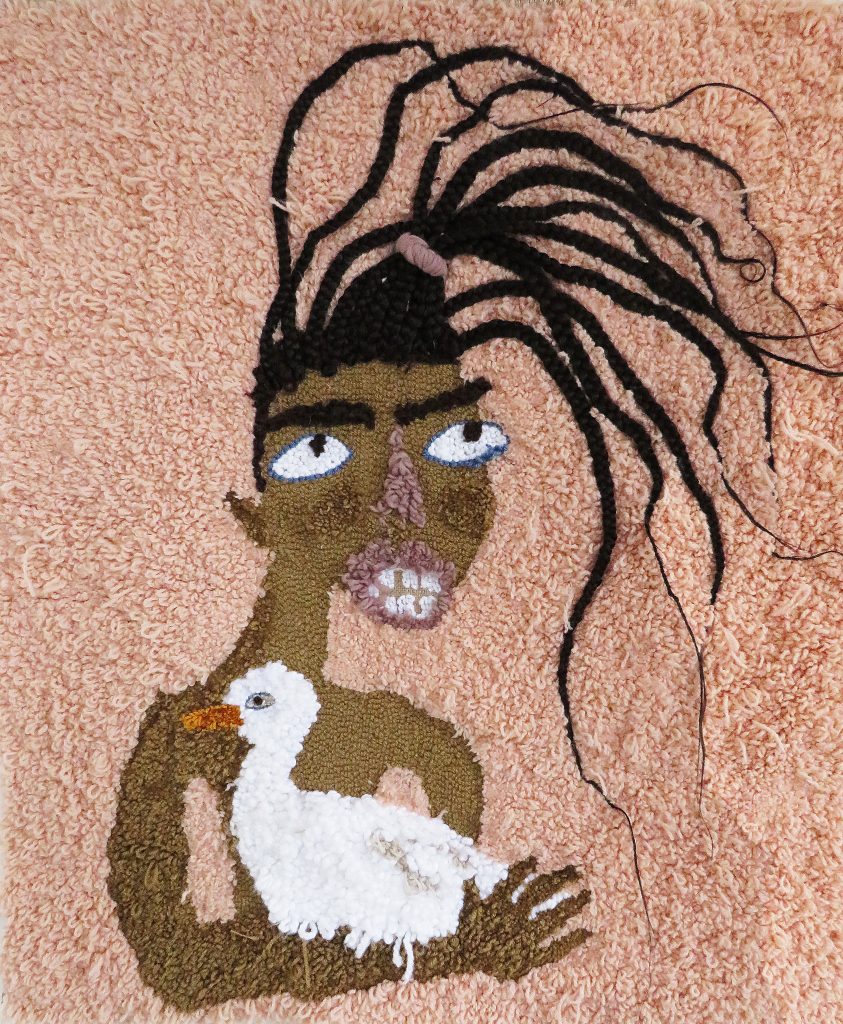 The recipient for The Wakelin Award 2020 is Anya Paintsil.
Previous award winners include Brendan Stuart Burns, Anthony Shapland, Catrin Webster, Jonathan Anderson, Meri Wells, David Cushway, Helen Sear, Clare Woods, Alexander Duncan, Philip Eglin and Richard Billingham.
This year's selector is artist and curator, Kathryn Campbell Dodd, who wrote that she found Anya's work, 'both highly charged and tender, these powerful pieces made using skilful traditional textile techniques (passed down to Anya from her grandmother) embody issues about class, race, feminism and belonging that are critical to our times.'
Anya Paintsil is a Welsh and Ghanaian artist working primarily with textiles. Currently based in Manchester, she grew up in north Wales with Welsh as her first language. From rug hooking to embroidery, her assemblages evoke tactile tapestry on the one hand, and constitute semi-sculptural interventions on the other. Frequently using weaves, braids and other hair pieces (as well as her own hair), Paintsil laces debates around race and gender into the very fabric of her work. Playful and profound, flippant and forceful, her practice engages the language of fibres — of all kinds — with interrogations of materiality and political personhood.
Anya Paintsil stated: "I am thrilled to be this year's recipient of The Wakelin Award and I am delighted that my work will be joining such a major public collection in Swansea. I would like to thank the organisers for their generosity. I am sure there are many other artists who will be supported by the award in years to come."
The Award is administered by the Friends of the Glynn Vivian and is generously supported by donations in memory of Richard and Rosemary Wakelin and their son Martin, who were themselves artists and active supporters of the arts in Swansea. Dr Peter Wakelin, said, "Our family really valued new art as well as the things already in the fantastic collection at the Glynn Vivian, which we loved so much. My parents gave a lot of their time and energy to support the Gallery and the Friends and they would be really pleased to see contemporary Welsh artists so much better represented in the collection thanks to this award scheme."
Karen MacKinnon, Curator, Glynn Vivian Art Gallery agreed, "For the past 20 years The Wakelin Award has enabled the Gallery to acquire many significant works for the city's collection. We are thrilled that this year the Wakelin Award has allowed us to acquire the work of Anya Paintsil a brilliant young artist from North Wales. Her textile practice includes rug hooking and embroidery and the resulting works resemble both tapestry and semi-sculptural interventions. The resulting works both playful and powerful referencing her childhood growing up in North Wales. But their humour belies interconnected issues of class, race, gender. We are also working with Anya on a new commission for the collection to sit alongside Mair at Cylch Meithrin, 2020, this conversation has also been made possible through the Wakelin Award. Our warmest thanks to Kathryn Campbell Dodd for selecting this work and of course to Anya Paintsil."
---
Anya Paintsil
Anya Paintsil was born in Wrexham in 1993 and currently lives and works in Manchester. Notable exhibitions include a recent solo show with the 1-54 Contemporary African Art Fair at Somerset House. Anya's work can be found in other public collections in the UK as well as private collections around the world. Anya is represented by Ed Cross Fine Art.
Richard and Rosemary Wakelin
Richard Wakelin (1921-1987) and Rosemary Culley (1919-1998) were both artists, based in Swansea from the late 1950s. They were born in Cardiff and met as students at the Welsh School of Architecture in 1939 before entering the services for the duration of the war. They married in 1947. Richard worked as an architect in private practice in Swansea and later with the City Council (where his role included care and alterations at the Glynn Vivian Art Gallery). The family lived in Sketty, and Rosemary moved to Oystermouth in 1990. As artists they both worked in abstract styles, but they appreciated all forms of art and craft. They worked through several organisations to further the visual arts, notably the Swansea Art Society, the Association of Artists and Designers in Wales, the 74 Guild of Artist Craftsmen, the Welsh Group, and the Friends of the Glynn Vivian.
They were co-founders of the Swansea Arts Workshop in the Maritime Quarter, now the Mission Gallery. They were always particularly keen to help and encourage talented artists and craftspeople, especially those struggling for recognition, and to broaden the enjoyment of the arts in Swansea and Wales generally. Their three surviving children are Andrew, Sally (and her daughter Kate) and Peter Wakelin. Their eldest son Martin died in 2012 leaving his wife Christine Townley and his daughter Megan, who continue to take an interest in the award.
---
Categories