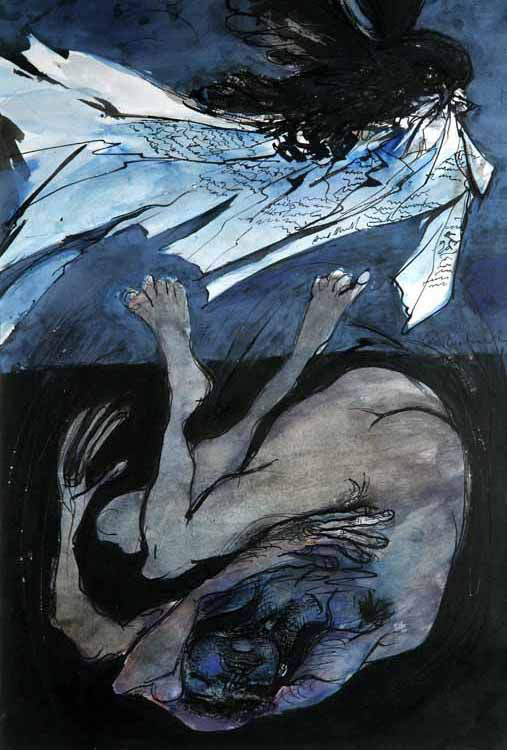 Do Not Go Gentle Into That Good Night, 1965
"Do not go gentle into that good night," is the impassioned plea of the poem by Dylan Thomas (1914-1953) beseeching his father to strenuously resist death. The emotional plea is here interpreted (lithograph, 1965) by Ceri Richards (1903-1971).
Both poet and artist were born in Swansea, but met only once at the Boathouse in Laugharne, just prior to the poet's final visit to the U.S.A. in 1953. Richards had already produced work which was thematically attuned to Thomas' poetry in his cycle of nature paintings from the mid-1940s.
"In the mid-1950s and in the mid-to late 1960s Richards returned again to the subject. A consciousness of mortality seems to haunt much of his figurative work of the '50s, culminating in two great paintings on the theme of Thomas's poem for his dying father, Do not go gentle into that good night (1956), and the tragically sombre Deposition (1958), which now hangs in the City Church of St. Mary's, Swansea."

('Themes and Variations', 2002, p.9)
To see more works by Ceri Richards in the Glynn Vivian permanent collection, see A Portrait of the Artist's Wife, The Pianist, La Cathédrale engloutie III and Music of Colours – White Blossom.