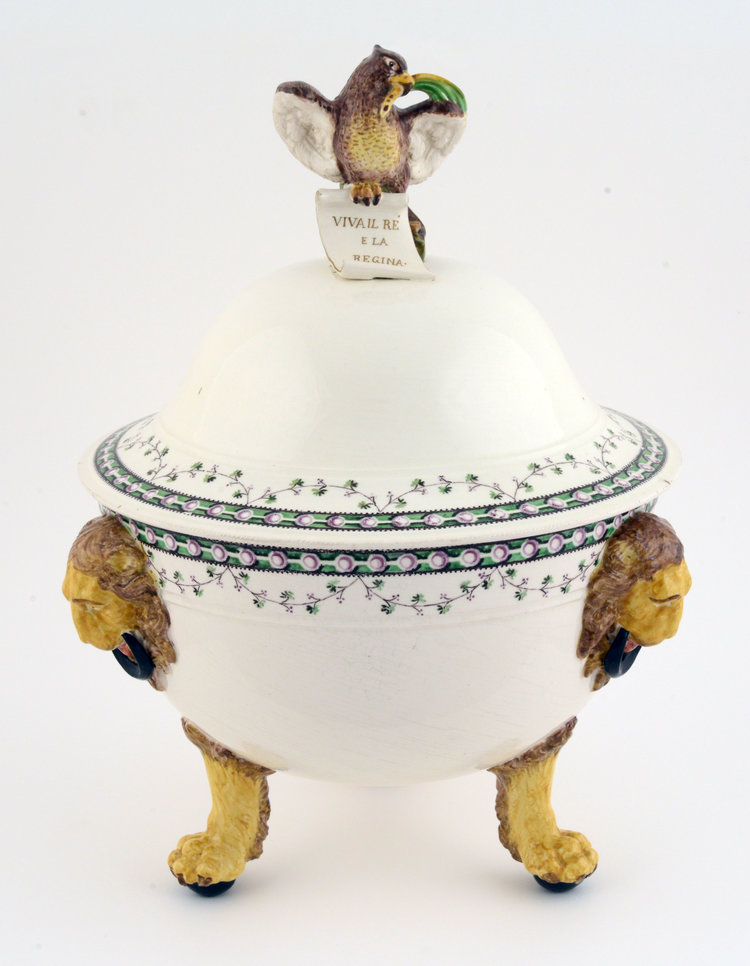 During his life, Glynn collected a number of objects with royal and aristocratic connections; these can be exemplified by the number of items bought at the Duke of Marlborough sale in 1886, the Sevres busts of Marie Antoinette and Louis XVI, the lid with an inventory number from Augustus Rex's Japonais Palais, and the tureens made for the King of Naples. There are also a pair of imperial bowls, and enamels made for the Chinese Emperor Qianlong.
There was a significant creamware industry in Southern Italy at the end of the 18th and beginning of the 19th century. The earliest factory was established by Nicola Giustiniani and his sons in 1760. They produced high quality everyday creamware items, as well as vases in the Etruscan style. Wares from this factory have a distinctive yellow tint.
The form of the tureens is significant, with both the eagle and lion being symbolic of royalty. The three legged form of the tureens represents the 'triskele', a symbol consisting of three legs united at the thigh and was the ancient symbol of Trinacria (Sicily , thus named for its triangular shape), which was resurrected by Joachim Murat, (brother-in- law of Napoleon) who was named king of Naples on the 1st of August 1808.
The motto, "VIVA IL RE, E LA, REGINA" translates as "LONG LIVE THE KING AND THE QUEEN".
Conservator Peter J. David ACR.