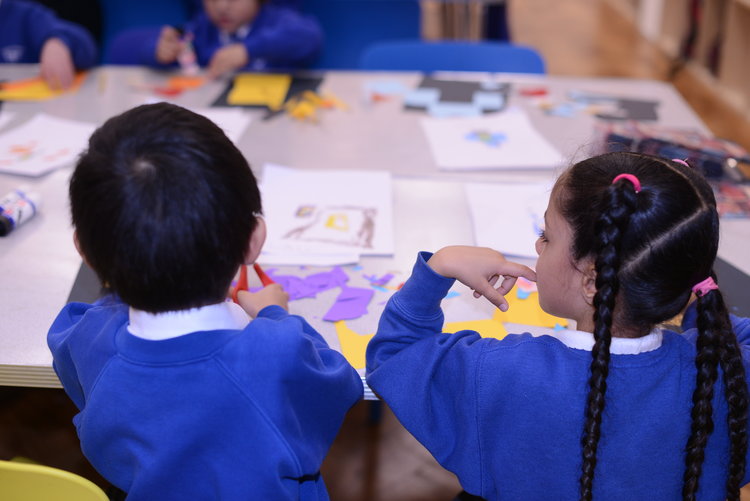 Our artist-led workshops are themed around our Collection displays and our contemporary Exhibitions programme.
Each workshop is structured with a guided tour followed by a practical activity.
The workshop begins with an observational walk around the Gallery, where we explain how to navigate and use galleries, focusing on the artworks through drawing and discussion.

The workshop then continues in our dedicated Learning Room, where an experienced artist educator leads a series of creative exercises. The practical element will explore materials and techniques relating to what the group observed during their investigation of the Gallery and the displays.
Beginning with a guided tour of the Gallery, pupils will be encouraged to explore and to make preparatory sketches before returning to our dedicated Learning Studio (Room 2) to develop their work.
For Secondary schools and FE collages we can offer a bespoke experience to fit in with your chosen theme or topic, our Learning team is open to discussion in order to create a unique experience for your class.
Sessions last approximately 2 hours between 10:00-12:00, and are available for a maximum of 30 pupils. Secondary schools with limited term opportunities for visits should contact us to discuss us making a visit to your school.
---
Themes
Choose from:
Explorers
Become an Explorer and learn about the Gallery and its founder Richard Glynn Vivian.
Take a tour of our exhibition Journeys between Art and Life: Richard Glynn Vivian(1835-1910), and discover the wealth of fascinating objects he collected while travelling the world. Be inspired by Glynn's story and collection and record your own journeys through drawing and painting.
Nature and Landscapes
Explore the Gallery's collection and learn about flower decoration through observational drawing. Take inspiration from artists such as David Evans and Thomas Pardoe and create your own botanical designs.
Portraits
Taking inspiration from the Gallery's exhibitions and displays, discover the Gallery's portraits and paintings before creating your own portrait in a medium of your choice.
Gallery
Join our artist educators and learn about life in a Gallery, the roles of the people, the choice of artworks and the way an exhibition has been put together, before creating your own artwork, inspired by the exhibitions and displays, or curate your own mini exhibition.
Please choose following list of materials:
Drawing (mixed-media including the use of Pencil, Pastels & Charcoal)
Painting (including Watercolour, & Acrylic)