Friday 8 April 2022 - Sunday 10 July 2022
10:30 am - 4:00 pm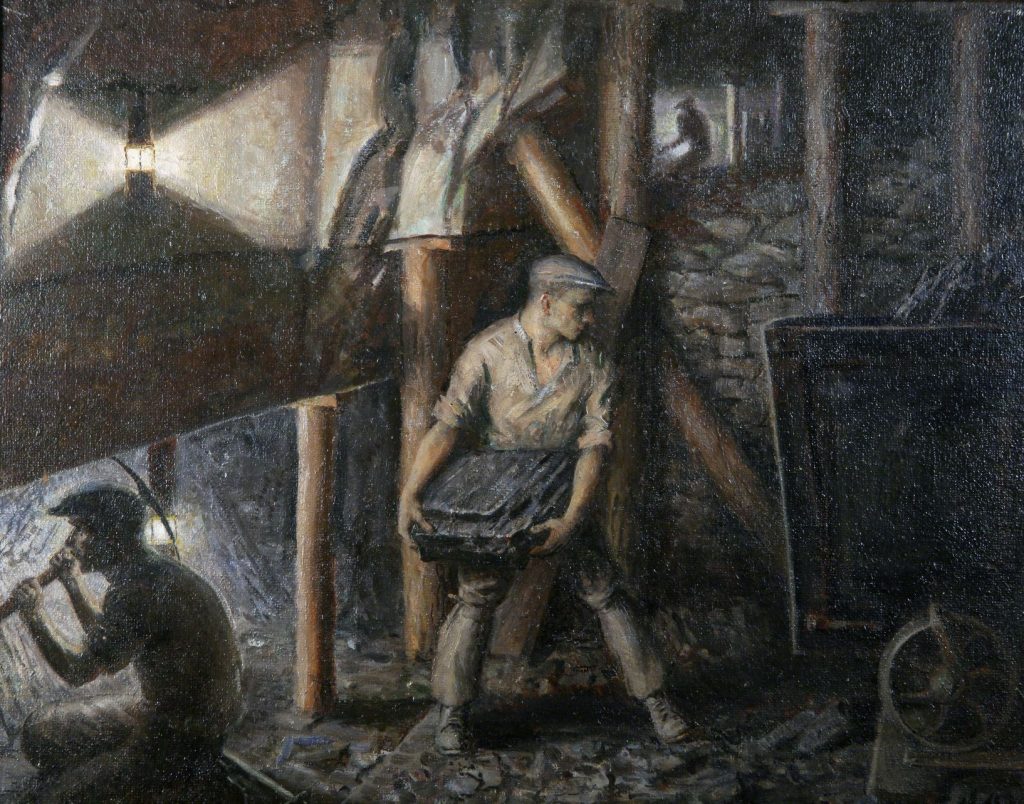 Curated by Dr. Zehra Jumabhoy
Exhibition Opening / Glynn Vivian at Night
Thursday 7 April, 5.30pm – 8.30pm
Glynn Vivian Art Gallery is delighted to present an exhibition of paintings, etchings, photography and videos dedicated to exploring art and industry in Wales; with a special concentration on Swansea and its environs.
The show mingles old favourites, such as Josef Herman's monumental Miners, with iconic (if rarely viewed) gems, like Ceri Richards' dramatic monochromes of factory-workers, Nicholas Evans' harrowing depictions of underground coal miners, Archie Rhys Griffiths's ghostly, glowing painting, Testing a Collier's Lamp, and drawings by Isabel Alexander. It will encompass over 60 artworks and provide visitors a chance to re-visit Wales' industrial past as well as trace its demise.
Drawing predominantly from the permanent art collection of the Glynn Vivian Art Gallery as well as archival material from Swansea Council's West Glamorgan Archive Service and Swansea Museum. The exhibition is one of the first to examine the region's art and industrial heritage through the 'big' names of Welsh art history. It also presents a unique opportunity for local communities to share their own memories and involvement with the Welsh industrial landscape via workshops, talks.
South Wales' connection to the development of industrial Britain – and its relationship to Welsh cultural life – is a territory ripe for re-investigation. The Vivians themselves – by whom the eponymous museum was founded – made their money through the copper works, which linked Swansea with the world. And yet, whilst much has been written about history of industrial Wales per se and some scholarship has been dedicated to paintings of Welsh landscape, little art historical attention has been directed towards the way landscape and industry converged in Welsh art. In fact, this dialogue has never been more pertinent as we seek to redefine Wales' place in the 'British narrative'; and address its own angle into 'decolonial' narratives. We must after all acknowledge the part it played in the British Empire – for instance, copper's connection with the slave trade and hence with colonial exploitation. (Art) history after all is never innocent.
Ironically, dominant representations of the Welsh landscape have pivoted around an Arcadian lalaland: epitomized by Richard Wilson's paintings steeped in the pastoral preoccupations of sheep and shepherds, peppered with picturesque ruins and Turner's glowing evocations of the soaring peaks of Snowdonia – untouched by the hand of man; untroubled by modernity. Such presentations have led to the perpetuation of prejudices about Wales as wildly beautiful, undomesticated – and backward. However, as this exhibition's images show, nothing could have been further from the truth: the rural had long given way to the industrial by the 18th and 19th centuries, and these paintings document the grimy realities of that transition. It is a history that continues to have relevance – as the region battles with the demise of its industrial past, the closing down of its mines during Thatcher's reign. Of the Talbot's steel works – all that remains is Tata Steel's plant in Port Talbot, a relic of the colonial encounter where the tables have turned: a Welsh company is now owned by an Indian firm. In the artworks on view this lost Wales, barely acknowledged, is revived in all its gloomy, gritty glory. It is time to look again.
---
---
---
This is part of 'Conversations with the Collection' a series of projects in which artists, curators, communities and historians are invited to work with the Gallery's permanent collection in ways which help us to reassess its value and usefulness in contemporary society, telling new stories and creating new conversations. Recent projects have included Carlos Bunga's Terra Ferma, Fern Thomas' Spirit Mirror, Dafydd Williams' malum and Sophie Ricketts' The Curious Moaning of Kenfig Burrows.
A programme of workshops and seminars will be available in June thanks to the grant scheme Connections Through Culture: India-Wales by the British Council, supported by Wales Arts International and Arts Council of Wales to develop co-created projects between artists, arts organisations and festivals in both India and Wales.
---
Dr Zehra Jumabhoy is currently curatorial research fellow at the Glynn Vivian Art Gallery funded by the Paul Mellon Centre for British Art, working on a major project Imperial Subjects (Post) Colonial Conversations between Wales and South Asia.
She is a Lecturer in the History of Art at the University of Bristol. She is a UK-based art critic, curator and art historian specializing in modern & contemporary art with a decolonizing focus. She was the Steven and Elena Heinz Scholar at the Courtauld Institute of Art, London, where she completed her doctorate on contemporary Indian art, nationalism and postcolonial theory. Her book, The Empire Strikes Back: Indian Art Today, was published by Random House, London, in 2010.
Connections Through Culture: India-Wales
Glynn Vivian Art Gallery in Swansea is collaborating with organisations and individuals in India; the Science Gallery Bengaluru, a space for engaging young adults with science and the art, as well as the Museum Society of Mumbai (under the stewardship of Dr Pheroza Godrej) and art historian Dr Zehra Jumabhoy, Lecturer at the University of Bristol. This exhibition grew out from such investigative research collaborations.
---
---
Categories