Friday 22 July 2022 - Sunday 4 September 2022
10:00 am - 5:00 pm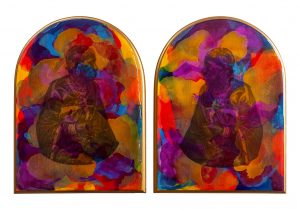 We are delighted to be presenting the work of Shiraz Bayjoo (b. Port Louis, Mauritius, 1979) and Brook Andrew (b. Sydney, Australia, 1970).
The exhibition will include video, painting, photography, archival material, and material from the gallery's permanent collection.
Room 3
Glynn Vivian at Night / Opening party, Thursday 21 July, 5.30pm – 8.30pm
Shiraz Bayjoo's practice explores the legacy of colonialism across the Indian Ocean region, as well as its complex histories of slavery, migration, and conquest, using a variety of media including video, painting, and photography. His research-based practice is frequently informed by in-depth investigations into the legacies of empire and colonialism.
Bayjoo's large scale installation, Searching for Libertalia, weaves together three historical narratives about the island of Madagascar: its history of piracy with the story of Captain Misson, slave trading by the French East India Company from the 17th to the 19th centuries, and the Malagasy fight for independence from France's Vichy government during WWII. Searching for Libertalia also highlights liberation and anti-colonial movements in African post colonies, as well as their relevance to contemporary race and identity issues.
Bayjoo's work, a fictitious archive of history and narrative, serves as a foundation for discussion of more contemporary issues. Bayjoo examines the dynamics of post-independence, wondering what happened to the places that had to build themselves from what Empire had left behind.
Glynn Vivian provided support for Bayjoo to write script for Searching for Libertalia as part of an artist-in-residence project in 2018 and was initially commissioned by Nottingham New Art Exchange.
Bayjoo has collaborated with Brook Andrew previously, as part of 21st Biennale of Sydney in 2018. The way in which Andrew builds and subverts narrative to highlight often-unseen narratives specifically in an Australian context was a considerable influence for Bayjoo, in thinking how to construct the language around Searching for Libertalia. These connections inspired this exhibition and conversation. Both artist's work draws together themes of colonialism, globalisation, lost histories, migrations, and the use of archival material is a foundation to both artist's practice – both using these materials to reframe and retell happenings from the past which are relevant now, particularly in relation to colonial histories and narratives.
Brook Andrew's, SMASH IT, draws attention to past events that have occurred in various places and times, connecting traumatic histories in Australia with international experiences and discourses.
The video work includes interviews, found film footage, reportage, activists' videos, ethnographic photographs, postcards, and other cultural materials, drawn from both the artist's own private collection and the collections of the Smithsonian Institute, Washington DC. Image, sound, and text overlap, revealing and unravelling the power relations between coloniser and colonised, visible, and invisible.
Excerpts from a series of interviews the artist conducted with First Nations leaders Marcia Langton, Wesley Enoch, Lyndon Ormond-Parker, and Maxine Briggs about cultural protocols, appear alongside imagery of defaced and destroyed colonial monuments and the sounds of demonstrators commanding attention through shouts, declamations, and chants.
Interspersed throughout is footage from Andrew's earlier artwork, The Pledge, a revised version of the 1955 melodrama Jedda, the first feature film made in Australia to use Indigenous actors as lead characters and the first shot in colour.
Overlying the film's imagery with new subtitles, Andrew rewrites the original film's love story into a science fiction narrative to reflect on colonial violence and genocide. Ending with the Wiradjuri word 'NGAAY' meaning to 'see,' SMASH IT brings colonial archives into relations with the present moment, inviting viewers to experience these images anew and to reimagine a different legacy.
This is the first of a new series of exhibitions, Conversations between artists, drawing together two artists whose work connects to each other through materials or themes used and through friendship.
These exhibitions will also connect to our wider 'Conversations with the Collection' is a series of projects in which artists, curators, communities, and historians are invited to work with the Gallery's permanent collection in ways which help us to reassess its value and usefulness in contemporary society, telling new stories and creating new conversations.
---
---
Shiraz Bayjoo is a contemporary multi-disciplinary artist who works with film, painting, photography, performance, and installation.
His research-based practice focuses on personal and public archives addressing cultural memory and postcolonial nationhood in a manner that challenges dominant cultural narratives. Bayjoo has exhibited with the Institute of International Visual Arts, London; New Art Exchange, Nottingham; 5th Edition Dhaka Art Summit; 14th Biennale of Sharjah; 13th Biennale of Dakar; and 21st Biennale of Sydney. Bayjoo is a recipient of the Gasworks Fellowship and the Arts Council of England. He was an artist in residence at the Delfina Foundation in 2021, and has recently been awarded the Smithsonian Artist Research Fellowship. In 2022, Bayjoo presented a solo exhibition at the Diaspora Pavilion for the 59th Venice Biennial, and has been invited to the 13th edition of Bamako Encounters.  He has created context-specific works about his native Mauritius, a space of Afro-Asian hybridity, as well as the United Kingdom, where he grew up.
---
Brook Andrew's matrilineal kinship is from the kalar midday (land of the three rivers) of Wiradjuri, and Ngunnawal on his mother's father's line, both Aboriginal nations of Australia, and paternally Celtic.
He is an artist and scholar who is driven by the collisions of intertwined narratives, often emerging from the mess of the "Colonial Hole," and was artistic director of "NIRIN," the 22nd Biennale of Sydney, 2020. Apart from Brook's artistic practice, his other current projects include: co-curator of We Are Not All Just Human After All: Care, Repair, Healing, scheduled to open in September 2022 at the Martin-Gropius-Bau, Berlin; International advisor to the Nordic Pavilion being transformed into the Sámi Pavilion at the 59th International Art Exhibition of La Biennale di Venezia 2022; Associate Researcher, Pitt Rivers Museum, Oxford, UK; ARC (Australia Research Council grant) with Dr Brian Martin: ARC Special Research Initiative for Australian Society, History and Culture: 'More than a guulany (tree): Aboriginal knowledge systems'.
Brook Andrew is Associate Professor in Fine Art, Monash University; Enterprise Professor in Interdisciplinary Practice, University of Melbourne; and a DPhil candidate in the Ruskin School of Art, University of Oxford. He is an Associate Researcher, Pitt Rivers Museum, Oxford; Honorary Senior Fellow, Indigenous Studies Unit and the School of Population and Global Health, University of Melbourne; and Associate Research in the Wominjeka Djeembana research lab at MADA, Monash University.
---
Categories