Saturday 15 October 2016 - Sunday 8 January 2017
10:00 am - 5:00 pm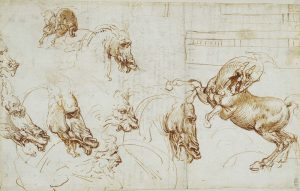 Glynn Vivian is to display ten of the finest drawings by Leonardo di Vinci in the Royal Collection in a new exhibition. The works have been selected to show the extraordinary scope of the artist's interests, from painting and sculpture to engineering, zoology, botany, mapmaking and anatomy, as well as his use of different media – pen and ink, red and black chalks, watercolour and metalpoint.
Through drawing, Leonardo attempted to record and understand the world around him. Leonardo's drawings are the richest, most wide-ranging, most technically brilliant, and most endlessly fascinating of any artist.
---
Glynn Vivian Art Gallery
Alexandra Road, Swansea, SA1 5DZ
map
iCal
Categories