Swansea Council's Glynn Vivian Art Gallery has become the first in the UK to be awarded the accolade Art Gallery of Sanctuary.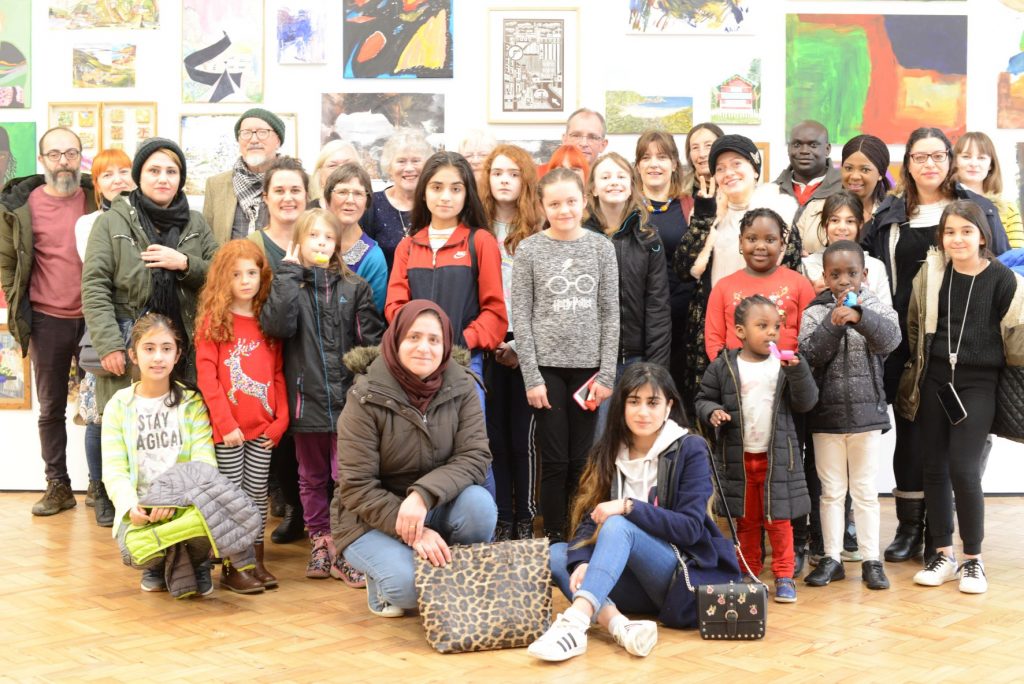 Sanctuary Awards – backed by the UK City of Sanctuary movement – celebrate the commitment of organisations to ensure a warm welcome and inclusivity for all.
Last year, Swansea celebrated 10 years as a City of Sanctuary, and the gallery's award helps to illustrate the area's ongoing support of refugees and people seeking asylum.
Over the past six years, the Glynn Vivian has worked with Swansea City of Sanctuary to offer weekly art sessions led by and for refugees and people seeking asylum in the local community.
Council cabinet member Robert Francis-Davies said: "Swansea is a welcoming city and our cultural sector plays a huge role in that."
A City of Sanctuary event took place at Swansea city centre's Volcano Theatre on November 12. This saw the gallery formally accept its new status.
Supported by a Taking Part grant from the Art Council of Wales, and the Friends of the Glynn Vivian, the gallery provides workshops, events, art resources and materials to people.
The pandemic has seen the creation of a welcome banner; this has been displayed at the gallery and will be on show at the National Waterfront Museum next year.
Other projects by the gallery's welcome group have included community exhibitions at the Glynn Vivian, a mosaic display at Morriston Hospital and participant portraits on hoardings around the city centre's emerging Copr Bay district.
City of Sanctuary committee member and asylum seeker Funmilayo Olaniyan said: "The Glynn Vivian is doing a fantastic job. Staff and visitors there learn from sanctuary seekers and involve them in creative activities."
"Right through the lockdown, they involved sanctuary seekers in lots of online activities.
"Their exhibitions raise awareness in the wider community about sanctuary seekers. This is at the heart of what Swansea City of Sanctuary does."
Thanuja Hettiarachchi, a refugee and the coordinator of Swansea City of Sanctuary's 10th anniversary programme, said: "The Glynn Vivian does everything it can to include sanctuary seekers in all their activities.
"For example, they provided bus passes allowing people new to the city to join in activities with other local people.
"During the pandemic, the Glynn Vivian has kept everyone active as part of the whole community, not just putting things on especially for asylum seekers and refugees."
Glynn Vivian curator Karen MacKinnon said: "We're delighted to become the UK's first Gallery of Sanctuary.
"Our colleagues Dan and Richard set up the welcome group over six years ago to create a safe space and to ensure that creativity is available for everyone in Swansea.
"At the gallery, we all believe that art can change lives, supporting health and wellbeing creating a more inclusive society and helping those who are struggling."
City of Sanctuary UK chief officer Siân Summers-Rees said: "The Glynn Vivian reflects our concept of sanctuary in arts so well.
"It lowers barriers and engages people with lived experience of seeking sanctuary.
"This takes place in creative activities alongside the host community – it raises awareness and builds resilience, friendships and relationships of solidarity."