Saturday 2 May 2020 - Sunday 6 December 2020
11:00 am - 3:30 pm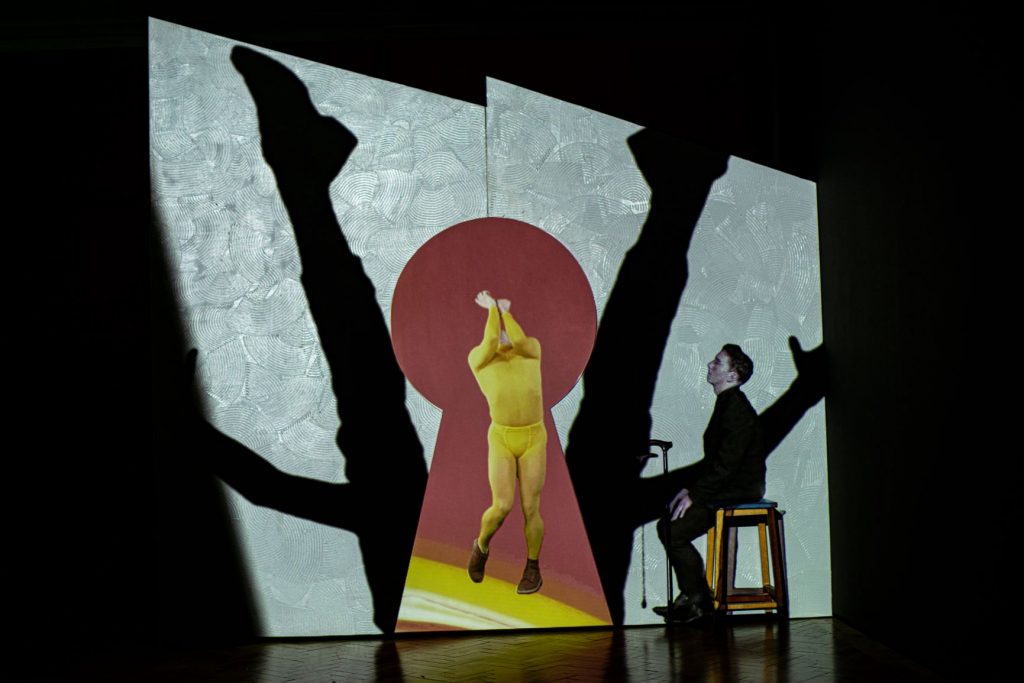 Pansy is a new collaborative commission between Catrin Webster and Roy Efrat.
Comprised of four new works, which include oil painting and video mapping, the work explores the complex meanings of the word Pansy.
Inspired by Franz Kafka's 1926 novel, The Castle, in which we see the protagonist K. struggle with authority, repeatedly trying to progress his work, which we never quite understand, but never moving beyond the Castle's snowy borders. In Efrat and Webster's work, the Pansy (P.) navigates a journey across the vast, softly painted background, humorous and playful. The work references identity, sexuality, gender and perception. Other works include a cinematic scale painting, and small painting/video mapping works.
Both artists are painters. Webster's work explores contemporary interpretations of place, and the potential to combine painting with performative approaches, such as exploring 'landscape' on a motorbike or video through painting. Efrat's incorporates painting and video mapping with his early experience of working as an internationally acclaimed classical dancer. Webster and Efrat, met during a URRA Residency in Buenos Aires in 2015.
Part of a series of exhibitions programmed in partnership with Swansea Pride, LGBT History Month and generously supported by Art Fund, Friends of Glynn Vivian and the Arts Council of Wales.
Bringing together video installation, photography, painting, video mapping and performance, these exhibitions explore interrelated themes of inclusivity, diversity, gender, language, ideological and political systems and climate change.
---
Other exhibitions in this series:
Charles Atlas, The Tyranny of Consciousness
---
Roy Efrat
Roy lives and works in London and Tel Aviv. He has exhibited in national and international solo and group exhibitions, including; London, Tel Aviv, Buenos Aires and Enschede, Holland. He has received a number of awards and prizes such as at the jury selection for the 19th Japan Media Arts Festival and Tiffany and Co. x Outset Studiomakers Prize 2018.
Catrin Webster
Catrin Webster lives and works in Swansea. She studied at the Slade School, University College London, at undergraduate and post graduate level. Her work has been included in broadcasts, such as a 30 min BBC Wales documentary, and in group and solo exhibitions; in surveys of contemporary painting, such as Pure Fantasy with Chris Offili and Glen Brown; solo shows in the Museum of Modern Art Reykjavik and Sala Uno Rome and is held in private and public collections, such as the British Council Collection, Hayward Gallery, London and Glynn Vivian Art Gallery, Swansea.
---
Categories